This tear gas launcher developed in 2016 by Tulpar to drop tear gas bomblets to control and direct the crowd during demonstrations via Tulpar drones.
In can be installed to any drone which can carry 2kg+.
Control unit can be used by standard RF Receiver & Transmitters or Tulpar's Multi Frequency Jammer Free Receivers.
It has 8 launchers, each launcher tube has 3 bomblets. Can be smoke or CS Gas.
The system has a downward looking camera on board. When the system armed, camera view automatically switched from front view camera to weapon camera to view the target area.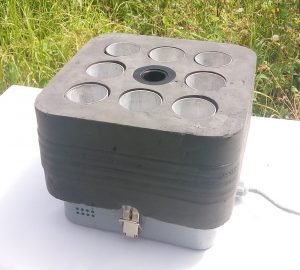 You can also follow remaining ammo quantity in the screen.
The launcher is not refillable. And needs to be replaced after use. Bu control unit is a separate unit and reusable to reduce the cost.